Pool Programs
Welcome to our New NCS Pool's Website
Experience the Adult Benefits of Fitness Swimming and Water Exercise
***Adult Lap Swim is OPEN on its Regular Schedule***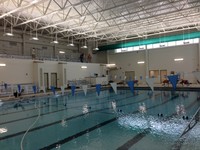 Our Programs:

Adult Lap Swim:
This NCS program is open to swimmers of all abilities from beginners to elite swimmers. Come and join one of our schools longest running adult fitness programs (over 30 years). One of our swimmers lost 105 pounds and began as a non-swimmer. Our group meets from 7-8 pm on Tuesdays and Thursdays and from 8-9 am on Saturday mornings. Fee is $2.00 (cash) per person/per session.

Lap Swim Supervisors: Ron Burke, Liz Dormer, Jake Hall, and Joe Kovalosky
Contact: ron.m.burke@gmail.com

Youth Lap Swim:
NCS Youth Lap Swim begins Tuesdays on July 8th and runs through Tuesday, August 19th from 5:00 pm to 7:00 pm.

Youth Lap Supervisor: Courtney Gursslin
Contact: cgrusslin@naplescsd.org.

Family Swim:
Family Swim will be held the first and third Friday of each month, October - June, from 6-8pm. The fee is $2 per person, $10 maximum per family.

Family Swim Supervisor: Katy Matthews
Contact: Katy Matthews

Naples Village Summer Swim Program:
Please contact Katy Matthews for Summer Rec dates and times for classes. Free Swim is held Monday - Friday during Summer Rec from 2:30-4pm.

Contact: Katy Matthews
email: NaplesSummerRec@gmail.com


NCS Swim Team:
Please check our NCS Athletics page for practice times and events. Come and cheer for the Big Green Swim Team!

---
Why exercise – regular exercise
Increases fitness level
Helps reduce stress
Increases energy through out the day
Improves quality of sleep
Decreases appetite and anxiety
Improves focus and concentration
Supports weight loss and weight maintenance
Decreases heart rate
Lowers cholesterol and blood pressure
What makes water workouts special?
Water helps cool the body during exercise – workouts in the water are refreshing
Exercise in warm water eases muscle spasms and tight muscles
Increases blood circulation
Promotes more fluid joint motions
Benefits of Water Exercise
Water cushions the impact – reducing stress on joints
Water exercise is zero gravity
Water is 12 time more resistant than air, allowing double to triple strength gains over land aerobics
Heart rates are lower in the water – this allows optional fat burning from muscles with less fatigue
Water supports muscles – promoting more efficient toning
Because water resistance can be controlled, or adjusted by the participants speed or motion, workouts can be designed to meet the need of everyone – regardless of fitness level
Benefits of Lap Swimming
Swimming has low impact, reducing stress on joints
Swimming increases strength and flexibility with little or no muscle soreness
Heart rates are lower in the water (water helps cool the body). This allows for optimal fat burning from muscles with less fatigue promoting more efficient toning
Swimming builds stronger bones
Equipment
Popular equipment for lap swimming includes: Kick boards and pull buoys. These are available for your use at our pool.
Equipment you should bring: Swimsuit, swim cap and goggles (chlorine irritation), some swimmers use earplugs and a nose plug if you are prone to ear or sinus infections. Soap, shampoo, and towel for your shower.
Lap Swim Etiquette
Enter the High School on the bus garage side /town side of the High School. The middle door will be unlocked. Enter the pool via the locker room, not the end pool doors.
Shower before entering the pool. Limit the use of street shoes on our pool deck by entering the pool via the locker rooms. If you rode a bike you may store it outside the building or in our hallway. You may bring any valuables in your bag and place them on the stands on the pool deck. The school cannot be responsible for lost items. Many swimmers lock their valuables in their car.
The envelope for your $2.00 cash payment per session is on the guards tower at the shallow end of the pool. Pay before entering the water. You must sign and pay in each session, there is no pre-payment for this activity. At your first session you will be asked to fill our 2 additional forms – an emergency contact form and a wavier.
Follow posted pool rules – that includes no food or beverage in the pool area. That especially includes glassware.
Be polite to our guards and supervisors – they are there to make you safe. They will help you if you ask.
Remember this activity is for swimmers of ALL abilities. Respect your fellow swimmers and make friends.
Slow swimmers usually swim in the far side of the pool, faster swimmers on the near side. Often the adult lap swim supervisor swims in the center lane. It is for your safety (they may also be an added lifeguard) and convenience (easy access for all patrons to communicate their needs to the supervisor). Swim in the lanes that best suit your ability.
When you enter a lane, or begin a swim, enter so as not to disrupt the continuous swim of others. If you take a break or have a conversation at the wall position your self as to not disrupt the continuous swim of others.
If you use pool equipment, please return them to their proper storage area.
If it is necessary to share a lane with another swimmer discuss with them if they prefer to split the lane or circle swim.
Three or more swimmers in a lane usually find it easiest to circle swim, keeping to the right of the black line at all times.
Circle Swim Rules
Be aware of passing procedures if you are swimming in the faster lanes (near the lockers/bleachers). If someone seems about to pass you, or touches your toes, pull over when you get to the wall, and let them pass you.
Circle swimming works best when swimmers of similar speeds are in the same lane. If you are continually being passed or passing others, a lane change may be in order.
If you stop, squeeze into the (left) corner of the lane so that other swimmers have room for their turns.
Mileage Conversions
1 length = 25 yards
¼ mile = 18 lengths
½ mile = 36 lengths
¾ mile = 54 lengths
1 mile = 72 lengths
Closings
Emergency Closings: The fastest way to check to see if the pool or swimming event is canceled it to check this webpage. It will be posted on this website first.
If you do not have access to the Internet let the Adult Lap Supervisor know – they may be able to call you if your name is on an emergency call list.
Life Guards Schedule
Guards please check the posted schedule. If you know you will not be available for an assignment please call your backup guard and supervisor as soon as possible.
Plan on being there 10 minutes before and 20 minutes after each Adult Lap swim. Help your Adult Lap Swim supervisor secure the pool and check all doors after each session. Be sure you have counted and initialed the Adult Lap Swim money in the envelope.